QUALITY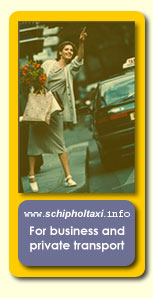 STS/Schipholtaxi stands for service and quality!
Therefore all our taxi's and drivers should commit to the following
requirements:
Our drivers are dressed well and they are polite.
Our drivers speak perfectly Dutch and English
Our cars are not older than 4 years

All our cars have a navigation system
A mobile phone in available on request
Service: We are able to watch any delay or early arrival
at Schiphol Airport, if we have received your flightnumber.